This weekend my esteemed Brother Duck came to visit. Many games were played and much fun was had. We hadn't had a chance to hang out in person for a while and it was really nice to just chill and enjoy some gaming.
First my Duck Bro, his girlfriend, and I played the Warhammer Quest Card Game (by Fantasy Flight), which I'm generally very impressed with. It reminds me of Death Angel (also by FF) in that they've managed to capture the feel of a specific miniature game very well with just cards in different stacks. It's quite similar to the LOTR co-op living card game (another FF product) but it's easier to understand what's happening and why.
Overall definitely a co-op game I'd recommend. It's got a fair bit of depth and replayability and it's pretty cheap too at about £20-£25. Sadly the addon packs are extremely rare and expensive, but it's a game I could imagine making my own addons for.
Next game was a two player competitive game called Bloodsuckers that I'd bought in a clearance sale for only £5. It's by Fireside Games, who are most famous for designing Castle Panic, a game my Duck Brother sometimes plays with his parents. I knew the game wasn't regarded as a classic but was fairly well put together and I found it pretty endearing in a very generic 90s World of Darkness vampires vs hunters sort of way. It's strange to say but I think very generic games actually sort of stand out these days with so many slickly produced games out there built around existing IPs like Warhammer or with very strong theme.
We got a few rules wrong (the manual isn't super clear and we were playing through fairly loosely) but the game was pretty fun and surprisingly deep and well balanced. I'm not sure if we'll play it again but I already feel I got my £5 worth. Also there's a vampire that looks like Riker from Star Trek: TNG.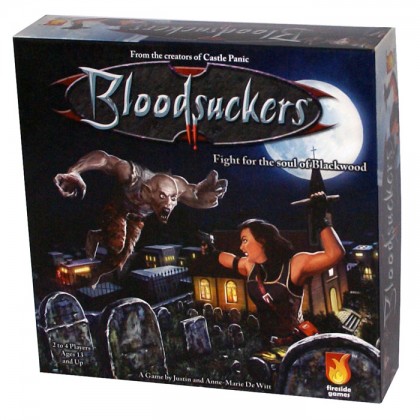 Finally we played a solid Heavy Gear Blitz skirmish, further testing out the house rules we've been writing for several weeks now. This was also our first time playing on the basic mars scape battlefield I've been constructing. Terrain is mostly from Battlefield in a Box and Planetfall.  I don't feel like doing a whole battle report, but here are some highlights: